REGISTRY STAFF ORGANIZES SENDOFF FOR REGISTRAR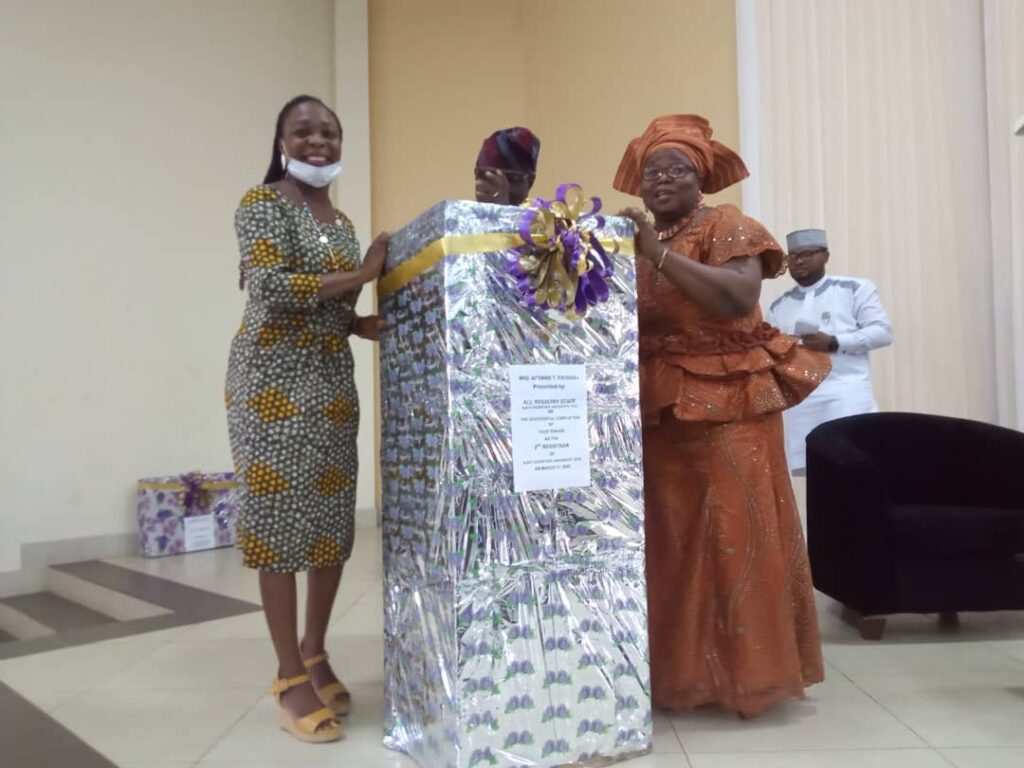 On Friday, March 26, 2021, staff of the Registry organized a sendoff ceremony for the outgoing Registrar, Mrs. Adenike T. Fatogun, whose tenure will end on April 30, 2021.
At the event, the Vice-Chancellor, Professor Timothy Adebayo, eulogized the Registrar. He described her as a hard-working person whose experience will be missed by the University. The University Librarian, Dr. Mrs. Beatrice Fabunmi, Chairman Committee of Deans, Professor Olatunbosun, Dean, Postgraduate School, Professor Joel Ayodabo, Dean, Faculty of Humanities, Most Reverend( Prof.) George Lasebikan, Professor Agbonjimi of the Faculty of Law amongst others, were in attendance. In their respective comments, they all eulogized the Registrar, and wished her well as she bows out of the services of the University. Some members of staff of the Registry also spoke well of the Registrar and shared experiences about how she impacted their lives positively. The Registrar's husband, Barrister Olumide Fatogun, was at the occasion where his wife was being honoured.
Two other members of staff of the Registry, namely, late Micheal Abikoye, Deputy Registrar (VCO), who would have retired from the University in May before his unfortunate death on March 17, 2021, and Mrs. Yetunde Onawona, who recently left the services of the University, were also honoured. Late Abikoye was represented by Dr. Ibikunle Joseph. Gifts were given to all of them.
In her speech, the outgoing Registrar, Mrs Adenike T. Fatogun, thanked the Registry staff for the honour done to her, and thanked all in attendance. She promised to always remember the University in her prayers and to keep in touch with the University.