Overview
Admission Requirement
Departments
Who Will Teach Me?
Staff List
Fees
Overview
FACULTY OF ENGINEERING
The Faculty of Engineering in Ajayi Crowther University projects to become one of the leading engineering faculties globally in the nearest future, by producing engineering graduates that are vast in knowledge and well-grounded in the principles and practice of science and engineering deployable in sustaining existing engineering infrastructures and in the development of new ones for the benefits of the citizenry. The Faculty also projects to constructively contribute to the advancement and extension of the frontier of knowledge in science and engineering through meaningful and purposeful driven research and practical application of relevant skills and competencies in industries and allied establishments.
Engineering is in some ways a hybrid between Arts and Science. When seamlessly adopted and implemented with a vision and clearly defined goals and purposes, it should culminate in the improvement of infrastructures and the economy of a nation and the enhancement of the quality of life of the citizenry.

Hence, the Faculty of Engineering in Ajayi Crowther University should be slightly, if not wholly different, from the existing ones in the country. Consequently, the faculty has purpose-driven functions such as, but not limited to:
Ensuring that individuals with flare and enthusiasm for Engineering are properly encouraged to have an interest in, and the capacity for the application of engineering principles for infrastructural development.
Ensuring that the students of the faculty imbibe the culture of continual learning, a premise for maintaining sustainable competencies in solving new and emerging problems and challenges in engineering practice.
Understandably, apart from the critical emphasis placed on the applications of engineering methods and requisite training, students should acquire the habits and culture of industry and allied institutions in terms of orderliness, ethics, thoroughness, doggedness, constituency etc. In addition, the students in the course of their degree programmes are given the liberty to exercise/develop their inherent abilities for creativity, imagination, innovation, and sound judgement.
Each degree programme provides requisite elements of engineering education, as well as the discipline of professional training, and a sense of the art of engineering as distinct from its sciences in addition to the Students Industrial Works Experience (SIWES).
All programmes have a social and humanistic component that gives the student adequate knowledge of social and human relationships, duties of citizenry, and appreciation of cultures.
The Faculty has four departments: Computer Engineering, Electrical/Electronics Engineering, Mechanical Engineering, and Civil Engineering.
The Department of Electrical/Electronics will be awarding the degree of Bachelor of Engineering (B.Eng.) in Electrical/Electronics Engineering with the following options:
Electrical Power Systems Engineering
Electronics and Communication Engineering
Instrumentation and Control Engineering
The Computer Engineering Department offers a Bachelor of Engineering (B.Eng.) degree in Computer Engineering. The Mechanical Engineering Department offers a Bachelor of Engineering (B.Eng.) degree in Mechanical Engineering. The Civil Engineering Department offers a Bachelor of Engineering (B.Eng.) degree in Civil Engineering.
Admission Requirement
ADMISSION REQUIREMENTS
Admission into Bachelor's degree programmes in the Faculty of Engineering is through the Unified Tertiary Matriculation Examination (UTME) or Direct Entry by the Joint Admissions and Matriculation Board (JAMB).
UNIVERSITY MATRICULATION ENTRY MODE
Candidates seeking admission must have a minimum of five credits in not more than two sittings, in English Language, Mathematics, Chemistry, Physics, and any other two relevant subjects to the programme in the Senior Secondary School Certificate Examination (SSCE) or its approved equivalent by Federal Ministry of Education. Such a candidate must also have an acceptable pass in the University Tertiary Matriculation Examination (UTME).
DIRECT ENTRY
Candidates seeking admission into the Department by Direct Entry should possess, in addition to ordinary level requirement, one of the following:
General Certificate of Education at Advanced Level in at least two relevant subjects.
Ordinary National Diploma (OND) with a minimum of Lower Credit in relevant Sciences and Engineering discipline from recognized institutions for admission into 200 level.
Higher National Diploma (HND) with a minimum of Lower Credit in relevant Science and Engineering discipline from a recognized Institution for admission into 300 level.
Transfer Candidates: Students may be allowed to transfer into 200 or 300 level of the programme provided.
They satisfy the University Conditions for transfer.
Vacancies exist in the Department of interest.
DURATION OF PROGRAMMES IN THE FACULTY OF ENGINEERING
The Faculty of Engineering offers a 5-year degree programme for the Unified Tertiary Matriculation Examination (UTME) candidates while Direct Entry candidates with OND or HND Certificates are expected to complete the programme in 4 or 3 years respectively.
MINIMUM DEGREE REQUIREMENTS
The minimum number of course units for the award of honours degree shall be 150.
150 course units, including all the compulsory courses, shall be used in the computation of the class of the degree.
All the compulsory courses must be taken and passed.
The minimum number of course units for the award of honours degree shall be 150 and for a Pass degree it shall be 125 units.
The degree shall be awarded with honours provided an undergraduate obtains a G.P.A that is not less than 1.5 and satisfies other minimum honours degree requirements.
DEGREE CLASSIFICATION
The classification of the overall performance of each student shall be based on Cumulative Grade Point Average (CGPA) system.
| | |
| --- | --- |
| Class of Degree | CGPA |
| First Class Honours | 4.50 – 5.00 |
| Second Class Honours (Upper Division) | 3.50 – 4.49 |
| Second Class Honours (Lower Division) | 2.40 – 3.49 |
| Third Class Honours | 1.50 – 2.39 |
Departments
Meet our Department of Civil Engineering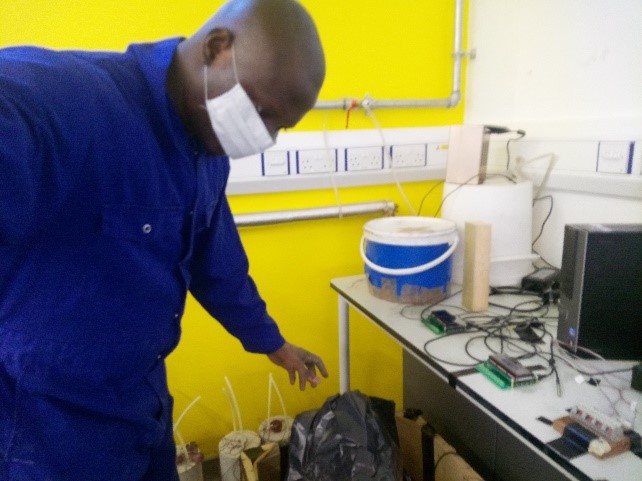 Thinking of studying civil engineering at ACU? If so, take a look inside our Department of Civil Engineering and check out about some of the exciting experiences, great facilities and fascinating academics you'll find here.
Civil Engineering BEng (Hons) Programme
The BEng (Hons) degree in Civil Engineering is a five-year programme for UTME candidates and four-year programme for direct entry candidates. It is a programme with a focus on geotechnical, structural and environmental issues such as waste management, building on contaminated land and water treatment.
Why study this course
Our civil and environmental engineering programme offers you a highly regarded degree course at one of the top universities in this field, preparing you for exciting future career opportunities in designing and working with the built and natural environments. You will develop a thorough understanding of civil engineering theory, which will be backed up by practical application through laboratory and research work, field trips and design classes which prepares you for work as a professional civil engineer. There's a strong emphasis on structural engineering, and throughout your course you'll work on integrated design projects centred on industry-relevant case studies.  Our close links with world-leading contractors and consultancy companies enable you to take up a salaried Professional Training placement. This gives you valuable experience which contributes towards chartership.
What's it like to study here?
In the Department of Civil Engineering you'll get an incredibly varied learning experience, and learn in an environment that's been rated 'Gold' in the Teaching Excellence Framework. Your average week will combine lectures, seminars, personal tutorials, industry talks, lab sessions and group work, amounting to around 20 contact hours every week for a first year student. You'll have a personal tutor who'll support you throughout your time at ACU, and you'll be able to schedule an appointment with them whenever you want or need to, using our online booking system.
Professionally accredited course
Accredited by the Nigerian Institute of Civil Engineers (NICE), the Nigerian Society of Engineers (NSE), and the Council for the Regulation of Engineering in Nigeria (COREN) for the purposes of fully meeting the academic requirement for registration as an Incorporated Engineer and partly meeting the academic requirement for registration as a Chartered Engineer.
Learning and assessment
You will be taught the fundamental aspects of engineering through a combination of lectures and tutorials, supplemented by practical lab sessions and project-based work. The taught modules in the first four years are largely compulsory, but options are available in year five. All students must complete a 3-unit individual project in yea five, for which they are allocated a supervisor from among the teaching staff.
There are opportunities for interaction with potential employers through careers fairs and guest lectures. Speakers from industry give regular lectures on their areas of expertise. These offer you the opportunity to hear experts speak on topics that are relevant to your degree and give you an insight into working in industry.
Feedback
We'll provide you with frequent feedback on your work. This comes in a variety of formats including oral feedback in classes design and project work and via marked assignment. The opportunity to test your knowledge and understanding will be provided throughout the semester via class tests plus feedback on written assessments. Occasionally, peer assessment of an individual's contribution to a group may be used, and you may also receive oral feedback on presentations and contributions to group activities.
Graduate careers
Civil Engineer
Design Engineer
Project Manager
Energy Engineer
Project Planner
Fieldwork
There is an off-site residential field-course for five days in year three and four, as part of the Field Studies of Natural and Built Environment core.
Who Will Teach Me?
Who will teach me?
Our teaching staff are all passionate about their field area of civil engineering, and keen to inspire students by sharing their knowledge. They include:
Dr. Isaac O. Olawoore (Acting Head of Department & Chair in Geotechnics) – whose research focuses on developing heat and cold energy storage devices, a specialist in advanced geotechnical engineering and soil mechanics.
Engr. Festus O. Adeyemi – whose research is in structures and construction materials.
Engr. Oluwole A. Olaniyi – a specialist in structural engineering and innovative methods of structural analysis and design.
Engr. Mary J. Adeyemi – an expert in the mechanics of biogas production, and environmental engineering.
Get in touch
Office of the Head of Department
+2348132449690
Staff List
Staff List – Faculty of Engineering
wdt_ID
id
passport
FACULTY
DEPARTMENT
Passport
NAME
staff
STATUS
post
dob
gender
qualifications
TELEPHONE
EMAIL ADDRESS
recent_publications
research_interests
associations
GOOGLE SCHOLAR
RESEARCHGATE LINK
1
64
Agriculture
Department of Agricultural Economics and Extension
Dr. Timothy A. Adetunji
Dr. Timothy A. Adetunji
Lecturer II
timdoyin@yahoo.com
2
65
Agriculture
Department of Agricultural Economics and Extension
Dr. Mrs. Rhoda T. Adeniyi
Dr. Mrs. Rhoda T. Adeniyi
Lecturer II
rt.adeniyi@yahoo.com
https://scholar.google.com/citations?user=iRy_nSMAAAAJ&hl=en&oi=ao
https://www.researchgate.net/profile/Adeniyi-Rhoda
3
66
Agriculture
Department of Agricultural Economics and Extension
Mr. Folorunso O. Oyelakin
Mr. Folorunso O. Oyelakin
Snr. Agric. Officer
folorunsooyelakin@gmail.com
4
67
Agriculture
Department of Agricultural Economics and Extension
Mrs. Bolanle Olumoyegun
Mrs. Bolanle Olumoyegun
Asst Lecturer
bola-ainia@yahoo.com
https://scholar.google.com/citations?user=slAWKDcAAAAJ&hl=en&oi=ao
5
68
Agriculture
Department of Agricultural Economics and Extension
Mr. Gbenga Fanifosi
Mr. Gbenga Fanifosi
Asst Lecturer
gfanifosi@yahoo.com
https://www.researchgate.net/profile/Gbenga-Fanifosi
6
172
Agriculture
Department of Crop and Animal Sciences
Dr. Moses J. Falade
Dr. Moses J. Falade
S/L (Ag. HOD)
S/L (Ag. HOD)
falademosesjimoh@yahoo.com
7
171
Agriculture
Department of Crop and Animal Sciences
Prof. Wahab. B. Akanbi
Prof. Wahab. B. Akanbi
Professor
Wb.akanbi@lautech.edu.ng
8
173
Agriculture
Department of Crop and Animal Sciences
Dr. Stephen O. Oyatokun
Dr. Stephen O. Oyatokun
Lecturer II
steveoyatokun@yafoo.com
https://scholar.google.com/citations?user=fR2eEhUAAAAJ&hl=en&oi=sra
9
174
Agriculture
Department of Crop and Animal Sciences
Dr. Tolulope O. Faniyi
Dr. Tolulope O. Faniyi
Lecturer II
tolfan2003@yahoo.com
https://scholar.google.com/citations?hl=en&user=z9GSpYkAAAAJ
https://www.researchgate.net/profile/Faniyi-Oreoluwa
10
175
Agriculture
Department of Crop and Animal Sciences
Miss Elizabeth T. Akinbola
Miss Elizabeth T. Akinbola
Assistant Lecturer
elizabethakinbola@yahoo.com
https://www.researchgate.net/profile/Elizabeth-Akinbola
11
176
Agriculture
Department of Crop and Animal Sciences
Mr. Adebisi T. Oyeyode
Mr. Adebisi T. Oyeyode
Asst. Lecturer
softtechguru@gmail.com
12
257
Basic Medical Sciences
Department of Medical Laboratory Scence
Dr. Adewale A. Oke
Dr. Adewale A. Oke
Lecturer I
okeadewale@yahoo.co.uk
https://scholar.google.com/citations?hl=en&user=j7jzZkgAAAAJ
https://www.researchgate.net/profile/Adewale-Oke
13
258
Basic Medical Sciences
Department of Medical Laboratory Scence
Mr. Temitope D. Adeleke
Mr. Temitope D. Adeleke
Lecturer II
adelekedaniel01@gmail.com
https://scholar.google.com/citations?user=sp_DABgAAAAJ&hl=en&oi=ao
https://www.researchgate.net/profile/Temitope-Adeleke-2
14
259
Basic Medical Sciences
Department of Medical Laboratory Scence
Mr. Akindele Ibukunoluwa
Mr. Akindele Ibukunoluwa
Lecturer II
Ibkakindele02@gmail.com
15
279
Basic Medical Sciences
Department of Physiology and Human Anatomy
Mrs. Veronica O. Ogunleye
Mrs. Veronica O. Ogunleye
Lecturer II
lolaore@yahoo.com
16
280
Basic Medical Sciences
Department of Physiology and Human Anatomy
Mr. Ajobiye E. Oyedele
Mr. Ajobiye E. Oyedele
Assist. Lecturer
17
281
Basic Medical Sciences
Department of Physiology and Human Anatomy
Mr. Sanmi T. Ogunsanya
Mr. Sanmi T. Ogunsanya
Assist. Lecturer
sanmilcaleogunsanya@gmail.com
18
282
Basic Medical Sciences
Department of Physiology and Human Anatomy
Mr. Ubong E. David
Mr. Ubong E. David
Assist. Lecturer
ubongel@gmail.com
https://www.researchgate.net/profile/Ubong-David
19
283
Basic Medical Sciences
Department of Physiology and Human Anatomy
Mrs. Omosola F. Anifowose
Mrs. Omosola F. Anifowose
Assist. Lecturer
omosolafaniyan@gmail.com
20
284
Basic Medical Sciences
Department of Physiology and Human Anatomy
Mr. Oyedayo P. Akano
Mr. Oyedayo P. Akano
Assist. Lecturer
akanooyedayo@gmail.com
https://scholar.google.com/citations?hl=en&user=N6ZDDOMAAAAJ
21
200
Education
Department of Educational Foundation
Prof. Michael O. Olatunji
ACU/SSE/PF/411
Professor/ Dean
Dean
0
M
B.A. (HONS) PHILOSOPHY M.A. ED. (PHILOSOPHY OF EDUCATION), PH.D (EDUCATIONAL FOUNDATIONS)
8161642302
mikeolatunji47@gmail.com



OLATUNJI, M.O. (2018). The Goals of Tertiary Education: A Philosophical      Assessment of Nigeria's National Policy on Education. Journal Plus Education.           Volume 20, Number 2. Aurel Vlaicu University, Arad, Romania.


OLATUNJI, M.O. (2018). The Theory and Practice of Free Education in Nigeria: A Philosophical Critique. Journal of Education in the Black Sea Region. Volume         4, Issue1. International Black Sea University, Georgia.


OLATUNJI, M.O. (2017). Critical Thinking in Nigeria's Pre-service Teachers' Education: A Philosophical Investigation. Journal of Teacher Education and          Educators, Volume 6, Number 2  Uludag University, Faculty of Education,         Turkey.


OLATUNJI, M.O. (2017). Critical Thinking in Nigeria's Pre-service Teachers' Education: A Philosophical Investigation. Journal of Teacher Education and          Educators, Volume 6, Number 2  Uludag University, Faculty of Education,         Turkey.                 


OLATUNJI, M.O. (2017). Critical Thinking in Nigeria's Pre-service Teachers' Education: A Philosophical Investigation. Journal of Teacher Education and          Educators, Volume 6, Number 2  Uludag University, Faculty of Education,         Turkey.      



PHILOSOPHY OF EDUCATION, MORAL PHILOSOPHY
Member, Philosophers of Education Association of Nigeria
22
203
Education
Department of Educational Foundation
ALLI M. Kehinde
Assistant Lecturer
M
B.Ed in Guidance and Counselling/Economics, M.Ed. in Counselling Psychology, Assessment and Testing
8032585279
mkobleken@gmail.com
Drug Addiction
Assessment of Students Performance
3
https://scholar.google.com/citations?user=bydHgAwAAAAJ&hl=en&oi=sra
https://www.researchgate.net/profile/Kehinde-Alli
23
201
Education
Department of Educational Foundation
Dr. Mrs. Joy I. Ajero
Dr. Mrs. Joy I. Ajero
Lecturer I
joyajero@yahoo.com
24
202
Education
Department of Educational Foundation
Dr. Mrs. M. A. Shobayo
Dr. Mrs. M. A. Shobayo
Lecturer II
shobayoabiodun@yahoo.com
https://www.researchgate.net/profile/Monsurat-Abiodun-Shobayo
25
204
Education
Department of Educational Foundation
Mr. Oluwaseyi Opesemowo
Mr. Oluwaseyi Opesemowo
Assistant Lecturer
opesemowo@gmail.com
https://scholar.google.com/citations?hl=en&user=La4eOyoAAAAJ
https://www.researchgate.net/profile/Oluwaseyi-Opesemowo
Fees
Fee Schedule
Faculty of Engineering's Fee Schedule for the 2023/2024 Academic Session is given below: