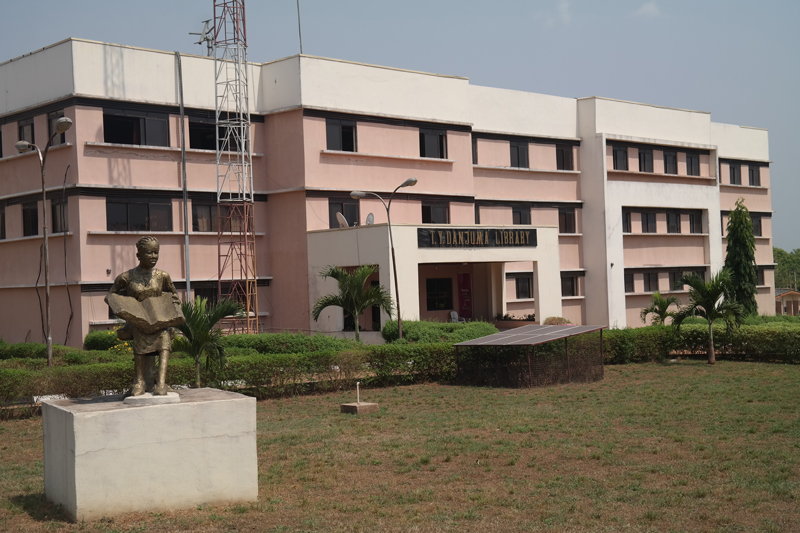 T.Y. Danjuma Library is the main repository of knowledge for the Ajayi Crowther University, Oyo.  The library took off from a Library building inherited from the defunct St. Andrew's College of Education at the inception of the University in January, 2006.
The Library moved to its current location on 4th January 2010.  This state of the art structure was donated by Lt. General T.Y. Danjuma (Rtd) as one of his numerous philanthropic gestures to support tertiary education in Nigeria and abroad.  The Library building has three floors to house the collection of books and other materials carefully selected to support teaching, learning and research and also to provide comfortable reading areas for library patrons.
Mission
To support teaching, learning and research by providing access to quality information resources at any location in a painless and a cost effective manner.
Resources
The library collection is split into two; namely: Humanities and Management/Social Sciences and Natural Sciences to reflect the current programs offered in the University.  Nevertheless, there are still rooms to accommodate collection of other disciplines as they are introduced into the University Curriculum.  Currently, the library collection is made up of over 20,000 volumes of books and 50 journal titles (foreign and local).  The Library harnesses the opportunity of the Internet and other information and communications technologies to facilitate access to myriads of electronics resources to compliment its physical collection.
Membership
The Library is open to students and members of staff of Ajayi Crowther University who are duly registered with the Library.  A library card is issued to a duly registered staff or students which must be produced before entering the library.  Moreover, the library is open to members of the large society with genuine needs to use library facility, however with the expressed permission of the Library Management.
Services
The library renders professional services through Librarians and a team of professionally trained support staff who assist patrons to locate needed information as quickly and efficiently as possible.  The services provided include: Reference Services, Selective Dissemination of Information Services, Current Awareness Services, Information Literacy, Interlibrary cooperation and Bibliographic compilation.
Electronic Resources
T.Y. Danjuma Library, through the support of the ICT unit of Ajayi Crowther University, has a steady and strong internet access.  This infrastructure has encouraged subscriptions to both free and fee based online databases.  These electronic resources are carefully selected to cater for the journal requirements of the faculty and also to make-up for the expensive foreign journal titles that were beyond the budget of the Library.  Such databases include:
1.         EBSCOHOST Database (Fee-based)
2.         JSTOR – (free)
3.         HINARI – (free)
4.         AGORA – (free)
5.         BIOLINE – (free)
6.         DOAJ – (free)
7.         National Virtual Library (through NUC)
These databases provide access to enough journal titles that are relevant to the needs of all the disciplines offered in Ajayi Crowther University.